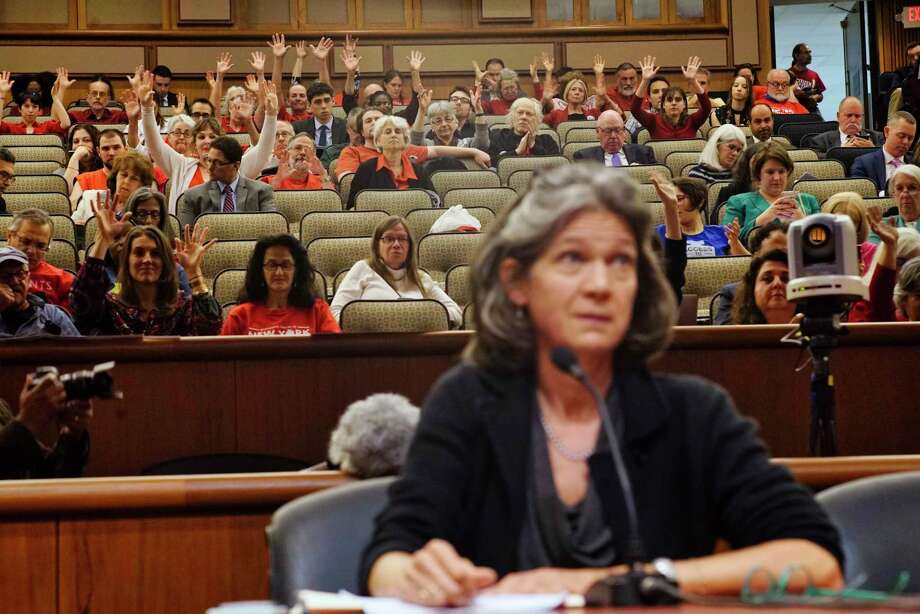 ALBANY — It's languished for more than two decades in the state Legislature, but a bill to create a single-payer health care system in New York may finally stand a chance now that Democrats have control of both houses.
At least that's what proponents of the New York Health Act are hoping.
At a lengthy, packed hearing on the bill held Tuesday in Albany, lawmakers heard from hospitals, health care leaders, municipal officials, patients, advocates, union leaders and others who all agreed that its goal of providing comprehensive, universal coverage to New Yorkers is laudable. But whether single-payer is the system to achieve that was the topic of spirited debate.
"With health care, I don't think anyone here would admit that it's not complicated or that the current system is working at its best," said Jamie Schutzer, legislative committee chair of the NYS Association of Health Underwriters, a group that's opposed to single-payer.
Sponsored by Democrats Richard Gottfried in the Assembly and Gustavo Rivera in the Senate, the New York Health Act proposes to replace traditional public and private health insurance programs in the state with a single, comprehensive, publicly funded system that would serve all New Yorkers regardless of their ability to pay. New Yorkers would no longer have to pay premiums, deductibles, co-pays, out-of-network charges or have limited provider networks under the bill.
It would be financed through federal support and a progressive payroll tax paid jointly by employers and employees, and shouldered largely by wealthy New Yorkers.
A 2018 study of the bill's possible effects by the nonpartisan RAND Corporation concluded that it would expand coverage while reducing total health spending, assuming that the state is able to negotiate slower growth of provider payments and trim administrative expenses. With a larger risk pool, the state would presumably be able to negotiate lower drug prices as well.
Mary Somoza, a mother of twin girls who require wheelchairs due to their cerebral palsy and an advocate for the disabled community, said the simplicity of a single-payer system would be life-changing for people with disabilities and their families.
Somoza said she grew up with guaranteed health care in England, and was surprised to learn that care was not guaranteed in the U.S. after giving birth to her twins 35 years ago in New York City.
"All the hard work of caring for two severely disabled young ladies is only 50 percent of what it was fighting the medical bureaucracy to get them and keep them the services they need to get along in life," she told lawmakers.
"I will fight to the end of my days, but we shouldn't have to do that," she added. "It should be a human right … Our families shouldn't have to fight monumental battles every time they need a service."
While New York's uninsured rate has dropped significantly since the federal Affordable Care Act was signed into law, nearly 1 million of the state's 19.5 million residents remain uninsured. On top of that, a recent survey of nearly 1,000 New Yorkers found that more than half of respondents believe their current health care costs are unaffordable.
"For insured people, what unaffordability looks like is cutting pills, skipping going to the doctor, not filling prescriptions," said Elisabeth Benjamin, co-founder and vice president of Health Care for All New York and the Community Service Society of NY, which support the bill.
Opponents of the bill say they are worried about the unpredictability and unknowns associated with upending an entire health care system, not to mention the idea of entrusting such an important system with the state government.
Health plan representatives and a few lawmakers also noted the progressive tax structure could cause high-wage earners in the state to move, draining the program of significant funding. It would also destroy the private insurance sector in the state, they argued, eliminating roughly 100,000 jobs.
"I have concerns about tinkering — not tinkering, basically destroying — the current system and rolling the dice for less than a half a million people," said Republican Assemblyman Andrew Raia, referring to the number of uninsured New Yorkers when you exclude undocumented and certain legal immigrants, as well as those who might gain coverage if New York expanded its Essential Plan.
Lawmakers on both sides of the issue appeared particularly concerned about any possible effect on retirees, who fear they may lose hard-fought benefits obtained through years and sometimes decades of union negotiations.
Unions, interestingly, are split on the issue of single-payer. The NYS Nurses Association and 1199 SEIU United Health Care Workers East spoke in favor of the bill, for example, while CSEA and the Public Employees Association spoke against it.
"These are things we fought for and we're not about to give them up," said Peter Meringolo, chair of the NYS Public Employee Conference, an organization with 82 member unions.
"What it appears you are selling is an assumption," he added, referring to the Rand study's assumption-based findings, "and I can't sell that to my members."
Rivera and Gottfried, the bill's sponsors, sought to assure unions that retirees would not see diminished benefits under the plan, which they argue would raise the quality of care for all residents.
Another signal of how contentious the topic of single-payer has become was the back-and-forth between certain lawmakers and members of the audience, who frequently booed and hissed at speakers who spoke against the bill Tuesday. Lawmakers fired back at times.
"By the way, I believe health care is a human right as well," Raia countered after one particular round of hissing. "I just disagree with the method."
Rivera said additional hearings will be held across the state in coming months